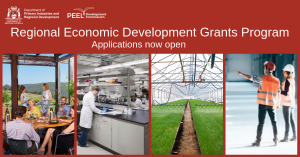 The Regional Economic Development Grants (RED Grants) program is a State Government initiative that invests in community driven projects to stimulate economic growth and development in regional Western Australia.
The grants support individual projects that promote sustainable jobs, partnerships, productivity, skills and capability, as well as stimulate new investment and industry diversification.
The 2018-19 Regional Economic Development (RED) Grants, round one, for the Peel region were announced by the Minister for Regional Development, Hon. Alannah MacTiernan MLC on 5 April 2019. Read the media statement here.
The Peel Development Commission welcomed this announcement with more than $850,000 going towards seven projects for the Peel region in this round.
Congratulations to;
Capogreco – funding for their cold storage and distribution facility
The Forest Discovery Centre – funding for the preservation and upgrade of the Jarrah Forest Lodge.
Mandurah Boat and Bike Hire – funding for new tour vessels.
Manukalife – funding for manuka oil plant breeding and trial project.
Mandurah Cruises – funding for a new boat enabling north Asian tourism growth in Mandurah.
Smartstream Technology – funding to assist with relocation from Kewdale to Cardup.
Cays Engineering – funding for the development of a paint yard to enable business growth.
Peel's successful RED Grant recipients demonstrated alignment with the following regional priorities: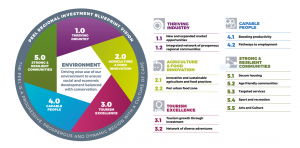 Alignment with the Peel Regional Investment Blueprint (click the image to see the Blueprint in detail)
Tourism product development
Agriculture and horticulture innovation / intensification
Job creation
Regional economic diversification
Cash leverage (Investment into the region) – Proponent and third parties
In total, $6.3 million was allocated for the first round of RED Grants to be evenly split across the nine Regional Development Commissions (RDCs) and all applications were assessed under a competitive merit based process.
The objectives of the RED Grants Program include:
• Sustainable jobs growth;
• Increasing productivity;
• Expanding or diversifying industry;
• Developing skills or capabilities; and
• Attracting new investment in the region.
A further round of RED Grants will be offered this year. In the meantime, please download the following documents for general information:
RED Grants Frequently Asked Questions
For further information on the RED Grants, please contact Simone Hutton on 9535 4140.
To discuss the Local Content outcomes to be achieved with your project, please contact Tahlia Jones, Peel Local Content Advisor, on 9535 4140.