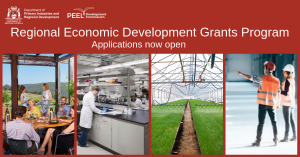 The Regional Economic Development Grants (RED Grants) program is a State Government initiative that invests in community driven projects to stimulate economic growth and development in regional Western Australia.
The grants will support individual projects that promote sustainable jobs, partnerships, productivity, skills and capability, as well as stimulate new investment and industry diversification.
The State Government's Royalties for Regions program has invested $22.5 million towards the RED Grants program as part of the 2018/19 State Budget.
An amount of $6.3 million  ($690K for Peel) has been allocated for the first round of RED Grants to be evenly split across the nine Regional Development Commissions (RDCs). Applications will be assessed under a competitive merit based process.
Each of the RDCs will manage the grant round process for their region, and will provide advice to applicants during the application process. Eligible applicants can apply for RED Grant funding of up to $250,000 for individual projects.
RED Grants Guidelines and Application information
Applications for the RED Grants round are now open and close 2 November 2018 (5.00pm). Applications will be assessed on a competitive basis within each region and eligible applicants can apply for RED Grant funding of up to $250,000 for individual projects.
RED Grant proposals submitted should demonstrate alignment with the following regional priorities: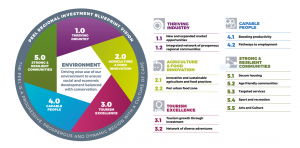 Alignment with the Peel Regional Investment Blueprint (click the image to see the Blueprint in detail)
Projects that specifically align with the one or more of following Peel regional priorities will attract a higher weighting in the assessment process:
Tourism product development
Agriculture and horticulture innovation / intensification
Job creation
Regional economic diversification
Cash leverage (Investment into the region) – Proponent and third parties
To apply, please download the following documents:
RED Grants Frequently Asked Questions
Click here to be taken to the RED Grants Application form via Smarty Grants
For further information on the RED Grants, please contact Simone Hutton on 9535 4140.
To discuss the Local Content outcomes to be achieved with your project, please contact Tahlia Jones, Peel Local Content Advisor, on 9535 4140.
Access the Ministerial announcement here.
Advice & guidance:
At the following venues, staff from the Peel Development Commission will engage with potential applicants, on a 15 minute schedule, providing advice and guidance on projects.  Peel Local Content Advisor, Tahlia Jones will be available for questions relating to Local Content and John Lambrecht from RDA Peel to discuss opportunities for the Federal Government's Building Better Regions Fund.
Please RSVP to grants@peel.wa.gov.au the location and a time (15 minutes time slots) if you wish to attend.
Monday 8 October 2018

Mandurah
Peel Development Commission

45 Mandurah Terrace

MANDURAH  WA  6210

9.00am-11.00am
Mundijong
Serpentine Jarrahdale Community Resource Centre

2 Paterson Road

MUNDIJONG  WA  6123

1.00pm-2.30pm

Wednesday 10 October 2018

Waroona
Waroona Community Resource Centre

10 Henning Street

WAROONA  WA  6215

1.30pm-3.00pm

Friday 12 October 2018

Pinjarra
Murray House Resource Centre

14 James Street

PINJARRA  WA  6208

9.00am-10.30am
Boddington
Boddington Community Resource Centre

Room 6

20 Bannister Road

BODDINGTON  WA  6390

12:00noon-1:30pm