There is no better time than the present for Peel businesses to connect to procurement opportunities in the region.
A dedicated regional focus on the development of local procurement strategies is enabling greater local business participation and employment opportunities for Peel communities.
A localised approach to procurement initiatives by State and Local Governments and community sectors is producing results and creating opportunities.
Across Western Australia new legislation dedicated to maximising the participation of local businesses in State Government supply opportunities is now underway. The Western Australian Jobs Act 2017 and the WA Industry Participation Strategy (WAIPS) came into effect on the 1 October 2018. This legislation aims to provide local businesses with access to and win State Government supply contracts.
In the Peel region alone, over $9.3 million worth of State Government contracts have been awarded to Peel businesses representing an economic value of $17 million to the Peel economy.
Through the implementation of the WA Industry a team of dedicated Local Content Advisers were established in each region. Local Content Advisers aim to ensure local businesses are informed, connected and supported to access State Government procurement opportunities across regional Western Australia.
Local Governments across Peel are also demonstrating significant leadership in utilising their purchasing power to support the local economy. Through improved measures to Buy Local and Purchasing Policies the Shire of Murray and the City of Mandurah are committed to supporting local businesses and job growth in the region.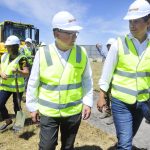 An important component to this local focus is the development of capable and competitive local businesses. Through a partnership with the Peel Chamber of Commerce and Industry the Peel Local Content Adviser delivered workshops across the region to create greater awareness of the opportunities and support businesses to connect with Peel based works or supply opportunities.
The results to date showcased by a series of local case studies provide evidence that local procurement strategies create opportunities and produce positive outcomes for the region.
This article was first published in the Peel Magazine, Autumn/Winter – vol 5.1 – to read and download the full magazine, click here.