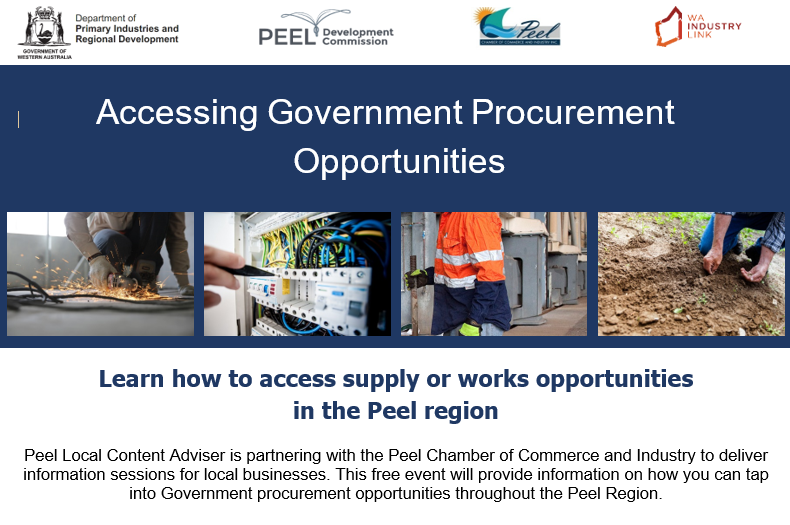 Accessing Government Procurement Opportunities
Learn how to access supply or works procurement opportunities in the Peel region.
Peel Local Content Adviser is partnering with the Peel Chamber of Commerce and Industry to deliver information sessions for local businesses. These free events will provide information on how you can tap into Government procurement opportunities throughout the Peel Region.
What you can expect from the workshops:
Information on local projects in Peel
Overview of the State Government procurement landscape
Connecting your business to opportunities
Tenders WA registration and search
Supports and grants available to assist your business
The workshops have limited spaces available, so make sure to register your attendance now!
Workshops will be held at the following locations:
Pinjarra
Monday 25 March from 8am – 9am
Edenvale Community Meeting Room, Edenvale Homestead
Cnr George and Henry Street, Pinjarra WA 6208
Click here to RSVP now for the Pinjarra session 
Boddington
Friday 5 April 8am – 9am
Council Chambers at the Shire Administration Centre
39 Bannister Road, Boddington WA
Click here to RSVP now for the Boddington session 
Waroona
Wednesday 10 April from 8am – 9am – Venue TBA
Waroona Community Resource Centre
10 Henning St, Waroona WA 6215
Mundijong Serpentine/Jarrahdale
Monday 15 April from 8am – 9am
Serpentine/Jarrahdale Community Resource Centre
2 Paterson St, Mundijong WA 6123
Click here to RSVP now for the Serpentine/Jarrahdale session 
For more information, please contact Tahlia Jones, Peel Local Content Advisor on 9535 4140 or tahlia.jones@peel.wa.gov.au.