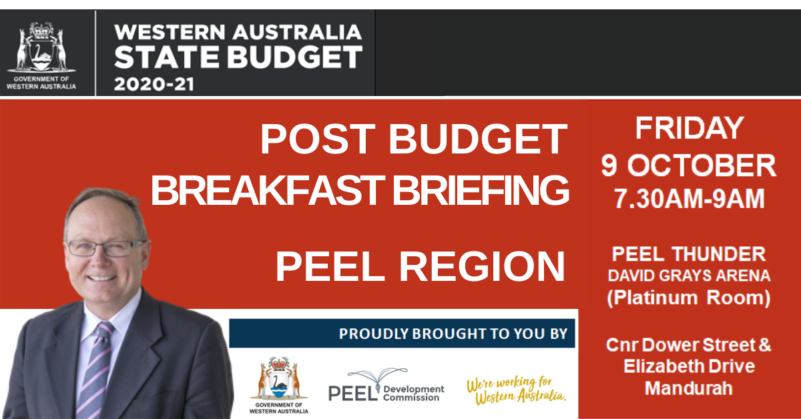 2020 Post Budget Breakfast Briefing – Peel
Event Date: Friday, 9 October 2020 
The Commission hosted local business owners, community members and government representatives at the Post Budget Breakfast briefing with David Templeman MLA where he provided an overview of the 2020-21 WA State Budget. He outlined what funding and investment was included for the Peel region and what job-creating projects would assist with the region's recovery. Thank you to everyone who attended and to our Deputy Chair, Alan Cransberg for MC'ing the event.
Read the PDC's Media Release about the event here – https://www.peel.wa.gov.au/wp-content/uploads/2020/09/20201012-MR-Post-Budget-Breakfast-Briefing.pdf
Please review the State Government Media Statement here on the Budget – https://www.mediastatements.wa.gov.au/Pages/McGowan/2020/10/Recovery-Budget-delivers-relief-for-Peel-region-families-and-drives-economic-activity.aspx
Peel Budget Fact Sheet – https://www.ourstatebudget.wa.gov.au/2020-21/regions/peel.pdf
Check out the photo gallery below from the event.