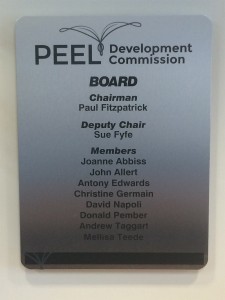 Regional Development Minister Terry Redman has appointed of Mandurah businessman Paul Fitzpatrick as chairman of the Peel Development Commission.
Mr Fitzpatrick, who has been deputy chairman since December 2012, brings a range of skills from a broadly based and diverse background to his new role.
A graduate of the Australian Institute of Company Directors and in Marketing Management (UWA), his career has been in Business Development and Marketing in the public and private sector.
In 1998 Mr Fitzpatrick diversified his business interests back to his family roots of Waroona where his family have farmed since 1893.
His primary focus was in sustainability and diversification and as such he developed his land into "lifestyle" smart farms in North Waroona with olives.
He was a co-founder of the Farmstead Technology Company, a research and development company with a focus on development of the Smart Farm. Farmstead was part of a Department of Agricultural partnership group
In 2000 Mr Fitzpatrick was also a member of a study tour at the invitation of Agriculture WA to look into sustainability and diversification best practice techniques in New Zealand, North America and the United Kingdom.
While his business focus of latter years has centred on the introduction of best practise techniques in agriculture, Mr Fitzpatrick has continued to channel his business skills and expertise into the local community. He has been an active member of a variety of not for profit and community organisations in the region.
In 2003 he was elected as Waroona Shire President, coincidently 100 years after his grandfather Paddy Fitzpatrick, was elected to the same position in 1903.
 As the Commissions' deputy chairman Mr Fitzpatrick has been a key contributor to the Peel Regional Investment Blueprint which will drive future opportunities for the region.
He said Peel is on the brink of exciting change, with an ever increasing number of people attracted to the region.
"Juggling the competing demands of rapid growth requires a clear vision, backed by sensitive planning and careful application of resources."
"The Commission has embraced this challenge and has worked with more than 200 stakeholders to form a shared vision of Peels future as a 'progressive, liveable and productive region," he said.
"I would like to thank former chairman Geoff Totterdell for the work he has put into raising the bar for the Commission, steering us to this exciting stage of articulating the promising future that lies ahead for the Peel. As the new chairman my role will be to continue this work, ensuring we achieve these goals."
"I am also pleased to welcome the five new board members, who have been appointed by Minister Redman," he said.
"They will bring a diverse set of skills and experience, with backgrounds in business, education, local government and agriculture."
Dwellingup resident and Curtin University Adjunct Professor Susan Fyfe will be deputy chairman. Dr Fyfe and Murdoch University Acting Vice Chancellor Andrew Taggart, are Ministerial appointments.
Business consultant David Napoli of Dwellingup will join the board as community representative and Waroona Shire Councillor Christine Germain and Mandurah City Councillor Don Pember are the new local government representatives.
Mr Fitzpatrick also thanked retiring board members, Wally Barrett, Mark Jeffrey and Elizabeth Hoek for their contribution to the commission.
Peel Development Commission Board of Management September 2014
Chairman: Mr Paul Fitzpatrick
Deputy Chairwoman: Dr Sue Fyfe
Existing Members
Mr Paul Fitzpatrick, Mandurah – (Community representative
Cr John Allert, Boddington – (Local Government representative)
Mr Anthony Edwards, Mandurah – (Ministerial appointment)
Ms Joanne Abbis, Keysbrook — (Community representative)
Ms Mellisa Teede, CEO Peel Development Commission – (ex-officio)
New appointments – September 2014
Adjunct Professor Sue Fyfe (Ministerial appointment)
Dr Fyfe is Adjunct Professor of Health Sciences at Curtin University. She has lived in Dwellingup since 1995 and has been an active member of the community. She is chair of the Forest Heritage Centre and a member of Dwellingup Community Compact. Professionally she has an extensive background as a teaching and research academic in health with significant senior leadership roles.
Professor Andrew Taggart (Ministerial appointment)
Professor Andrew Taggart is currently Acting Vice Chancellor at Murdoch University. In his substantive role as Pro Vice Chancellor he is responsible for engagement, (partnerships, collaborations, co-investment) with the wider Murdoch community including local and state governments and all levels of business and industry.
Mr David Napoli (Community representative)
Mr Napoli offers a broad exposure to a range of industries and government. He left CSIRO to join Alcoa in 1980 as part of the team developing the Wagerup Refinery and Willowdale mine where he worked until joining the Executive of Challenge Bank. He has been a member of a number of committees and has a strong connection with the region since arriving in WA and owning a farm in Dwellingup.
Cr Donald Pember (Local Government representative)
Cr Pember is currently a Councillor with the City of Mandurah with a career in banking, health and aged care services.  He has worked many rural and regional centres throughout Western Australian in a range of occupations and different skills bases.
Cr Christine Germain (Local Government representative)
Cr Germain is currently the Shire President of the Shire of Waroona.  Christine has been a Justice of the Peace since 1983, has strong links with the equine industry in the region and has had various roles throughout the community.