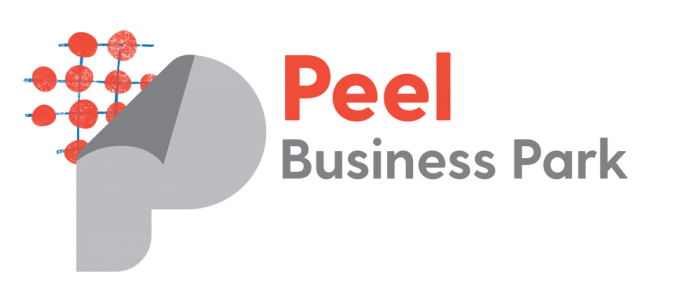 The Peel Business Park is the centrepiece of the 35-year visionary Transform Peel project that will create new industries, more jobs and better food security. Peel Business Park is a strategically located, sustainably designed industrial precinct in the Shire of Murray, only 75km south of Perth.
The 120ha Peel Business Park has a focus on creating local job opportunities, is positioned as WA's home of agri innovation featuring the Shire of Murray's Western Australian Food Innovation Precinct and is backed by best practice services including water, power, gas and telecommunications.
Located east of the freeway and just off Lakes Road, Peel Business Park will provide excellent immediate access to the growing southern corridor, with the freeway and Mandurah CBD only minutes away.
The park combines a strategic location and a time zone shared with 60% of the world population with;
research and data to fast track investment analysis
the flexibility of tailored investment packages
the synergies of an innovative industrial ecosystem for the future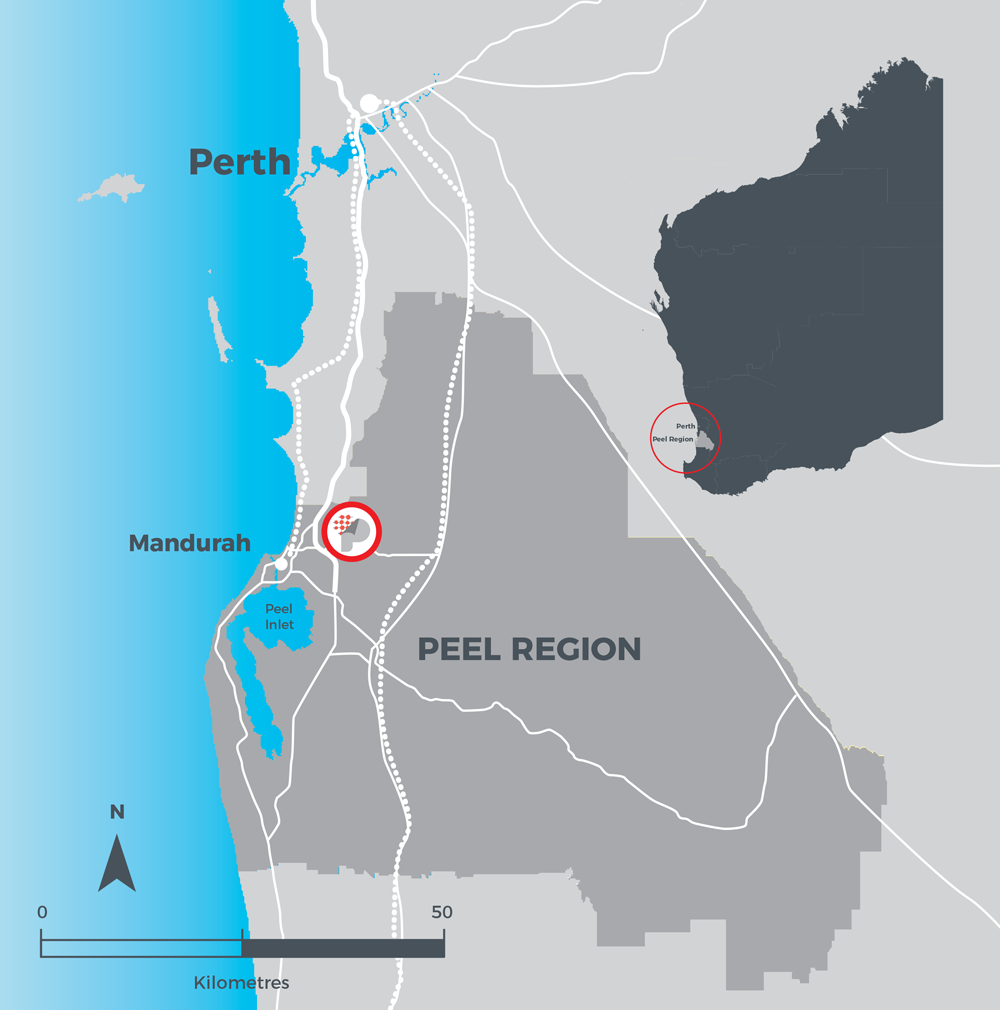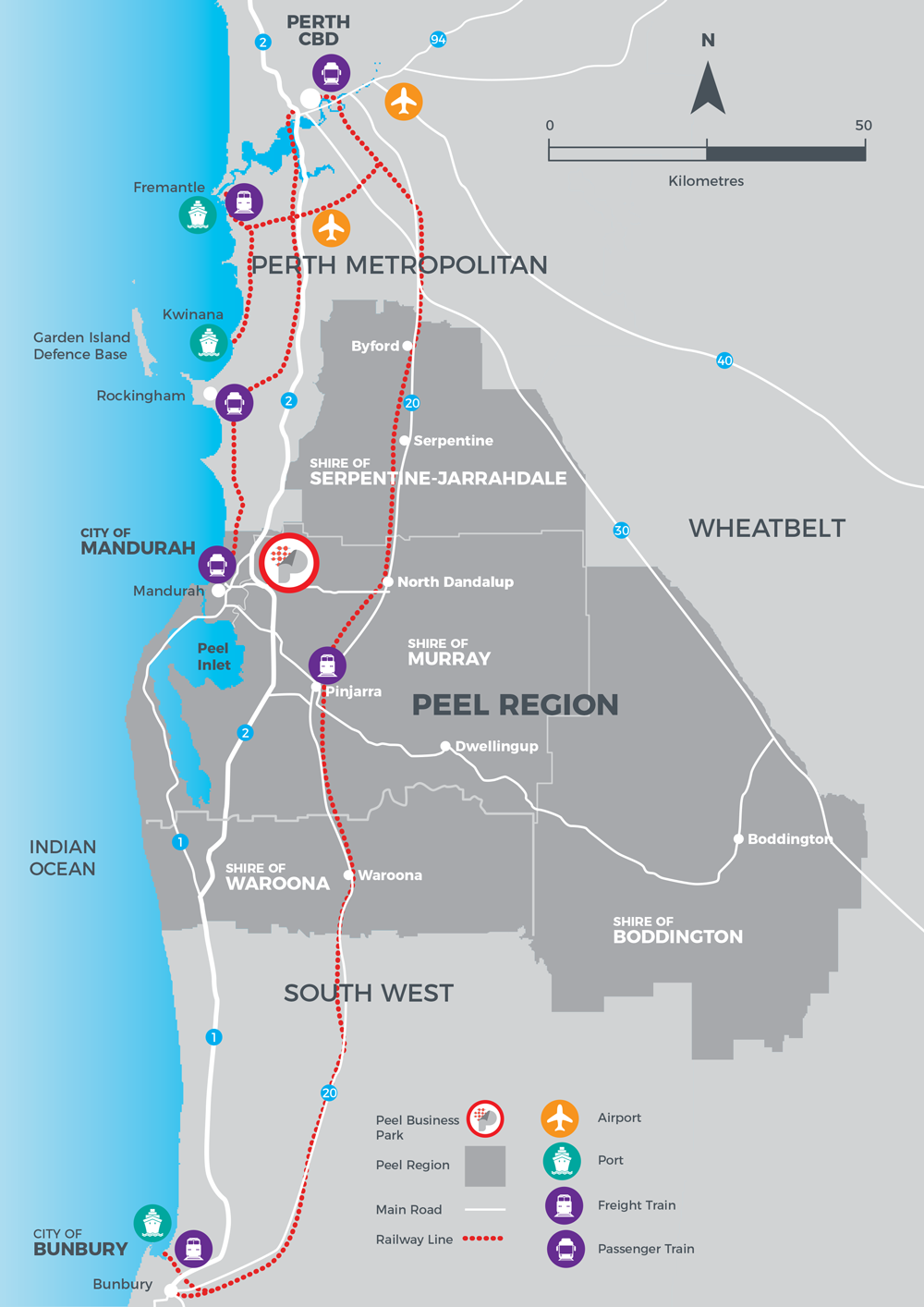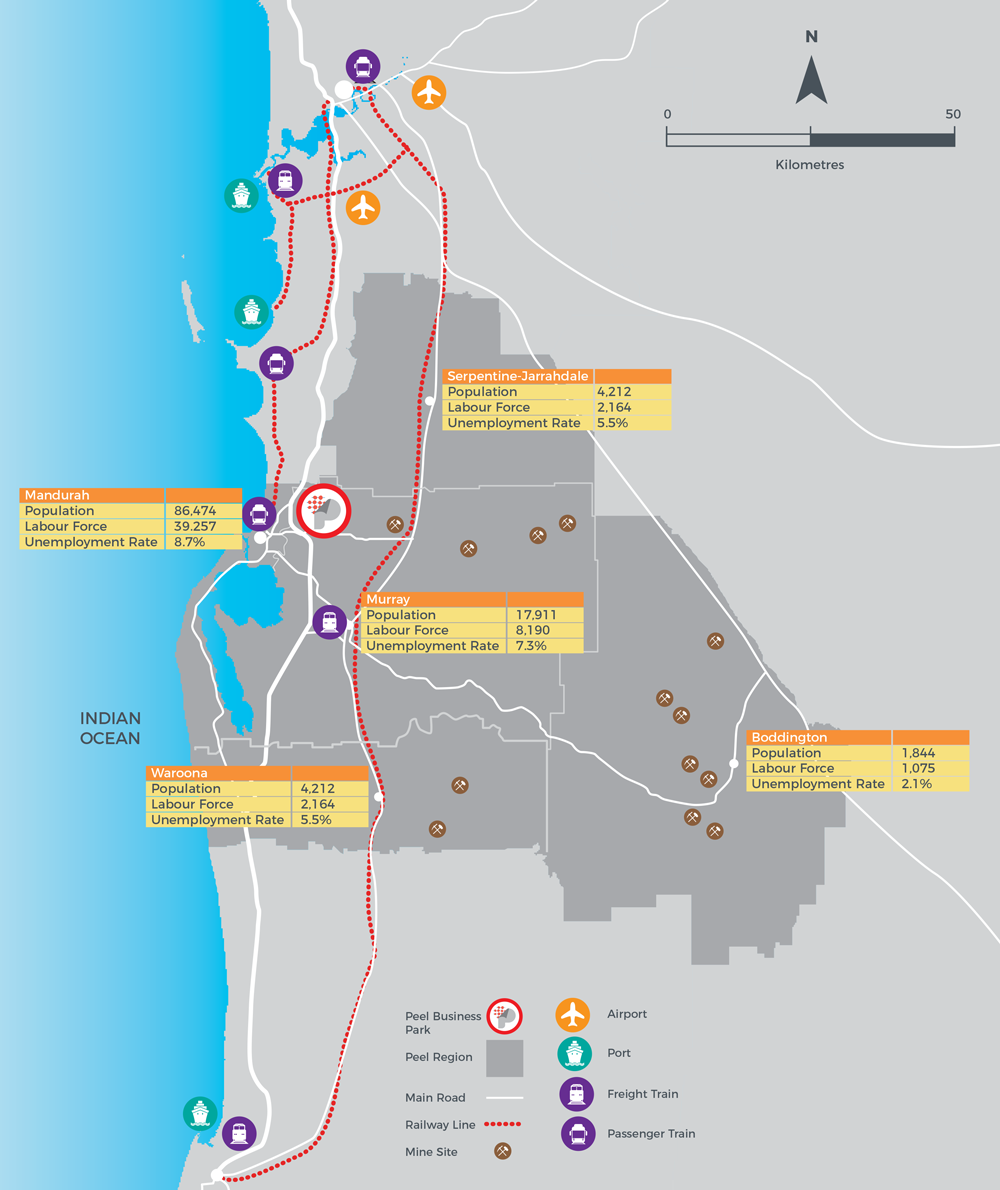 Strategic Location
Population & Workforce
Business Park Layout
Infrastructure
The Park provides a location to accommodate general and light industry, as well as large format commercial industries growth for the Peel and Southern Metropolitan regions. It is the natural expansion for the fully developed Gordon Road commercial/ industrial area.
The Peel Business Park incorporates a planned capacity to support Research and Development (R&D) and training through the development of a technology park, with an emphasis on primary industries. The development of the Peel Business Park provides the opportunity to demonstrate the viability of innovative on-site servicing solutions as a way to reduce the expensive early provision of 'business-as-usual' trunk servicing infrastructure ahead of current planned network expansions.
Peel Business Park is focused on powering the transformation of the Peel region through job creation by delivering industry development opportunities.
The Western Australian Food Innovation Precinct, developed by the Shire of Murray within Peel Business Park, is set to broaden Peel's economic base by enabling Australian and global entrepreneurs, food companies and agri-enterprises to cost-effectively network, research, develop, prototype and market-test new value-added food products derived from WA primary produce.
Peel Business Park is also home to Western Australia's Department of Fire and Emergency Services Bushfire Centre for Excellence which will be a leading facility nationally in bushfire learning and skills development for career officers, emergency service volunteers, researchers and scientists.
Download the Peel Business Park – A Transformation in Progress brochure here.
Peel Business Park will provide unlimited potential to forward-thinking investors and developers who want to get in on the ground floor of the region's development.
Peel Business Park has also been recognised as an environmentally sustainable estate by the Urban Development Institute of Australia (UDIA).
The Peel Business Park snapshot and environmental brochures highlight the Park's unique points of difference.
Click the images to the right to view and download.
Watch these short videos to hear about what that means for the growth of the Peel region and resulting investment opportunites  >>