WORDS & IMAGES | Suzanne Hall, Halls Family Dairy
The family behind Hall's Family Dairy, is Philip and Suzanne Hall and their son Tavis. They are the current caretakers of a 100 year dairy farming family tradition in Wokalup producing premium quality milk and now an amazing artisan cheese called 'Halls Suzette'. Suzette is a soft, creamy and rich Pont-l'Évêque style cheese made from the milk of their beautiful French Normande cows. Coveted by foodies, Chefs and dairy lovers alike throughout Australia, Suzette has raised eyebrows and ruffled feathers within the small artisan cheese industry. Dairy farming all their lives, the Hall's have endured many struggles within the industry including deregulation of their quota system in 1999 and many years of adverse weather seasons. They knew that they had an amazing point of difference with the many unique dairy breeds they had developed over more than 20 years of selective breeding. Philip and Suzanne were looking for ways to secure their business for the next generation.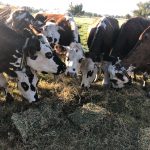 Halls Family Dairy looked at value added products and decided their Normande cows gave them a wonderful opportunity to produce very special artisan cheese.
After consulting with WA Food Ambassador Don Hancey about which cheese would suit the market, Halls Suzette was born.
Suzanne says, "by keeping our setup costs and overheads to a minimum we have been able to establish a small profitable separate business using our milk. By making the Normande milk into Suzette cheese we are making over 10 times the return on our milk".
Philip and Suzanne travel weekly to Perth and through the Southwest to deliver their cheese, while Tavis keeps the daily operation at the farm running.
The Hall's all work together, most mornings before getting on the road at about 7am. They know that Paddock to Plate is very important to consumers now and their business is the epitome of this. By delivering their cheese directly to the chef in his kitchen, they get to understand not just the lives of dairy farmers but the love they have for our livestock and their industry.
A recent addition to the growing list of top WA chef's using Hall's Suzette cheese is Peel's own Felicity Evans of Flic's Kitchen.
"It is such an exciting time to be a chef and having the opportunity to work with such passionate small producers like Philip and Suzanne Hall. Their exceptional 'Hall's Suzette', Pont-l'Évêque style cheese has become a staple on our menu and our customers absolutely love it," said Felicity from Flic's Kitchen.
Halls Family Dairy are very proud to have been a State Winner of the delicious Produce Award in 2018 and also received a First Prize and Silver Medal in the Dairy Industry Association of Australia Awards in 2019 in the Washed Rind Cheese category.
The next step
The next step for Hall's Family Dairy is to continue expanding into new markets with their Suzette cheese. They have just begun supplying a Restaurant in Adelaide and two exclusive cheesemongers in Melbourne with inquiries from chefs in Sydney and Queensland. They have also developed a traditional cultured butter recipe using the cream that we hand separate from our Normande's milk.
"Our handmade butter has been extremely well received by chefs and Perth's butter lovers alike, described as "a luscious golden creamy mouthful of heaven".
 Hall's Family Dairy also plan to develop a range of dairy products using the milk from their very special individual dairy breeds, like Golden Guernsey butter and a Scandinavian semi hard cheese using the milk from their Swedish Red cows.
MORE INFORMATION
For more information visit:
www.facebook.com/HallsFamilyDairy
This article was first published in the Peel Magazine, Spring/Summer – vol 5.2 – to read and download the full magazine, click here.