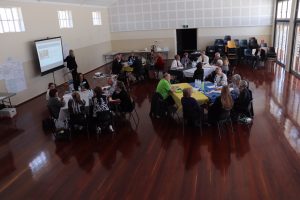 In partnership with RDA Peel and Peel Employment Facilitator, PDC hosted an aged care industry forum in Waroona on Thursday 27 September. The event was well attended with 27 representatives from the aged care industry including residential care providers, home care providers and local governments with a focus on age friendly communities.
The aged care forum was focused on engaging the industry in discussion about their challenges, opportunities and in determining priorities for joint development moving forward.
From these discussions, the following top three priorities emerged:
• Workforce development – development of flexible professional development options for skills development.
• System change – it was recognised that there are system level issues which are difficult to influence however a collective local voice for advocacy is a priority. The group also highlighted a number of local initiatives that could be developed to enable improved service provision within the existing system.
• Communication – there is a lack of understanding about both the residential aged care and home care systems amongst people seeking to enter the system, referring health professionals, auxiliary health providers and the general public. Development of a local level network to share information was raised as a beneficial first step.
Once a workshop report is finalised, PDC staff will meet with RDA Peel and Peel Employment Facilitator to review and determine next steps. One agreed action is to develop a survey of providers to gain improved insight of the local supply and future development plans.