Peel Local Content Adviser will help develop, promote and maximise opportunities for local businesses, contractors and jobseekers in the regions by connecting to relevant government, industry, businesses, Aboriginal Corporations, employment and training stakeholders.
Local Content – Local Opportunities
Peel Local Content Adviser aims to promote scheduled major upcoming contracts in the Region to support early identification of opportunities to local business and industry.
Below is an overview of the key projects across Peel and opportunities to get involved: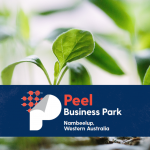 Peel Business Park
Local businesses operating in the Peel Region have had the opportunity to register their business details for the upcoming Peel Business Park land development works. The Peel Business Park project has a strong, long term focus on engaging Peel businesses and the community in the upcoming work.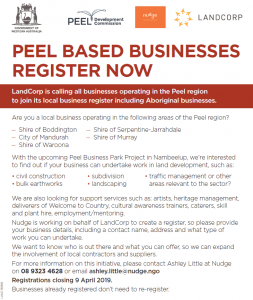 The Peel based business register captured a broad range of businesses from civil construction, landscaping and site works through to support services such as caterers, skill and plant hire, artists, deliverers of Welcome to Country, and heritage management.
Over the course of the project, Transform Peel is set to contribute up to $16 billion in economic output to the region and up to 33,000 jobs by 2050. That means economic growth, more jobs and innovative new industries.
LandCorp is calling all businesses operating in the Peel Region to join its local business register, including Aboriginal business.
To register your details, download the business registration form here.
Registrations close 9 April 2019. Businesses already registered don't need to re-register.
For further information contact the Peel Local Content Adviser on 9535 4140 or therese.ejsak@peel.wa.gov.au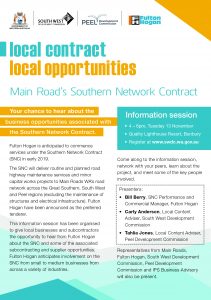 Southern Network Contract
Fulton Hogan are anticipated to commence services under the Southern Network Contract (SNC) in early 2019.
The SNC will deliver routine and planned road highway maintenance services and minor capital works projects to Main Roads WA's road network across the Great Southern, South West and Peel regions (excluding the maintenance of structures and electrical infrastructure). Fulton Hogan have been announced the preferred tenderer.
An information session was held to give local businesses and subcontractors the opportunity to hear from Fulton Hogan about the SNC and some of the associated subcontracting and supplier opportunities.  Fulton Hogan anticipates involvement on the SNC from small, medium and aboriginal businesses from across a variety of industries.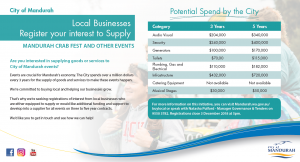 City of Mandurah – Local Businesses Register your interest to supply
The Peel Local Content Adviser is working with the City of Mandurah to maximise the involvement of local business in the supply of a range of services supporting the delivery of the Mandurah Crab Fest and other events.
The City of Mandurah procurement team are calling for businesses to register as suppliers via an expression of interest process.
For further information visit the City of Mandurah Tenders and Quotations page to get involved.
Download the Buy Local booklet here.
Stay connected
Join the Peel Development Commission mailing list to stay informed of upcoming opportunities.
State Government
Western Australian government departments use Tenders WA to advertise their public requests and publish contractual awards, including sole source purchases.
To register as a supplier, click Register Your Business to enter your business details and select the products/services that relate to your industry. This will enable your business to access the range of tender opportunities across the Peel Region.
To access a range of State Government tender platforms and register as a supplier go to Western Australian Government Opportunities.
Local Government
The Peel Region consists of five local governments. Information on tenders for each local government please click on the links below:
City of Mandurah – Tenders and Quotations page
Shire of Boddington
Shire of Murray – Tenders page
Shire of Serpentine/Jarrahdale – Tenders page
Shire of Waroona – Annual Tenders page
To access a range of Local Government tender platforms and to register as a supplier go to Local Government Opportunities.