The government has in place a range of financial and advisory programs to help businesses build capability, capacity and competitiveness in the supply chain. Local Content Advisers promote these programs and support local businesses to access these opportunities.
Help Shape the Future of State Government Procurement in Regional WA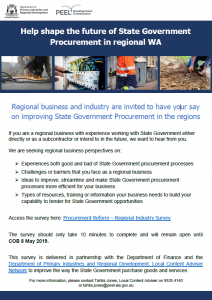 The Department of Primary Industries and Regional Development through their Local Content Adviser Network has partnered with the Department of Finance to gather feedback from regional businesses on State Government Procurement processes.
If you are a regional business with experience working with State Government either directly or as a subcontractor or intend to in the future, we want to hear from you.
We are seeking regional business perspectives on:
• Experiences both good and bad of State Government procurement processes
• Challenges or barriers that you face as a regional business
• Ideas to improve, streamline and make State Government procurement processes more efficient
• Types of resources, training and information your business needs to enhance capability in responding to tenders and working with State Government.
All responses to the survey are anonymous, unless you choose to leave your contact details.
The information collected from this short survey will form part of the broader procurement reform project managed by Department of Finance. This project is focusing on ways to improve the way the State Government purchase goods, services, works, ICT and community services.
The survey should only take 10 minutes to complete and will remain open until COB 8 May 2019.
Now is your time to get involved to shape the future of State Government Procurement in regional WA. Access the survey here Procurement Reform – Regional Industry Survey.
Thanks for participating, the Local Content Adviser Network greatly values the perspectives of regional businesses.
Please contact Tahlia Jones, Peel Local Content Adviser on 9535 4140 or tahlia.jones@peel.wa.gov.au
Support for Peel Businesses
Peel Local Content Adviser is partnering with the Peel Chamber of Commerce and Industry to deliver a series of workshops on how to access government supply opportunities across the region. The interactive workshop will provide businesses with support in how to set up their registration via Tenders WA to enable access to the range of regional opportunities.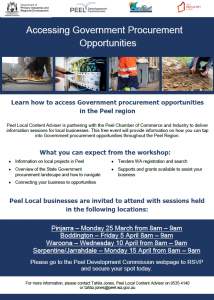 The workshops have limited spaces available, so make sure to register your attendance now!
Local businesses encouraged to attend.
Pinjarra – Monday 25 March from 8am – 9am

Boddington – Friday 5 April 8am – 9am

Waroona – Wednesday 10 April from 8am – 9am

Serpentine/Jarrahdale – Monday 15 April from 8am – 9am

— BYO laptop —
For further information contact the Peel Local Content Adviser on 9535 4140 or tahlia.jones@peel.wa.gov.au
Local Capability Fund
Both Local Capability Fund (LCF) rounds – Western Australian Industry Participation Strategy (WAIPS) and Regional Aboriginal Business are closed for 2018/2019 Financial Year and applications are no longer being accepted by Department of Jobs, Tourism, Science and Innovation (JTSI).
The LCF is an initiative under the State Government's Plan for Jobs. The purpose of the fund is to assist small and medium enterprises (SMEs) in Western Australia to increase their capability and competitiveness as suppliers of products, services and works to the Western Australian State Government, major projects and other important markets.
The LCF typically provides funding assistance on a dollar for dollar basis for activities such as planning, improvements to internal infrastructure, plant and equipment and training.
JTSI anticipate announcing more LCF rounds in Mid-2019.
For further information visit WA Industry Link
Aboriginal Procurement Policy support
The Aboriginal Procurement Policy came into effect from the 1 July 2018. This policy requires government departments to award contracts to registered Aboriginal businesses, consistent with progressive targets increasing to three per cent. The targets will apply to all government agencies when purchasing goods, services, community services and works.
To support the launch of this policy the Peel Development Commission delivered an Aboriginal Business Development Forum in August 2018, which provided an opportunity for Aboriginal business owners to learn more about how they can access Government contract opportunities and get practical support for growing their businesses.
The Aboriginal Business Development Forum was an important first step in providing that networking forum, bringing awareness to the Aboriginal Procurement Policy and the opportunities it presents, as well as the support mechanisms that are available. When our Indigenous business sector is supported in its growth and development, our entire region benefits.
For further information on download the Aboriginal Procurement Opportunities Information Sheet – Peel
For further information contact the Peel Local Content Adviser on 9535 4140 or tahlia.jones@peel.wa.gov.au
Further information, resources and support
The WA Industry Link portal is an online source of information on how local businesses can maximise their opportunity to supply to government. The portal offers businesses and agencies a range of useful information, resources and access to Advice and Programs to Build Capability.
For more information on WA Industry Link please visit industrylink.wa.gov.au