1 November 2018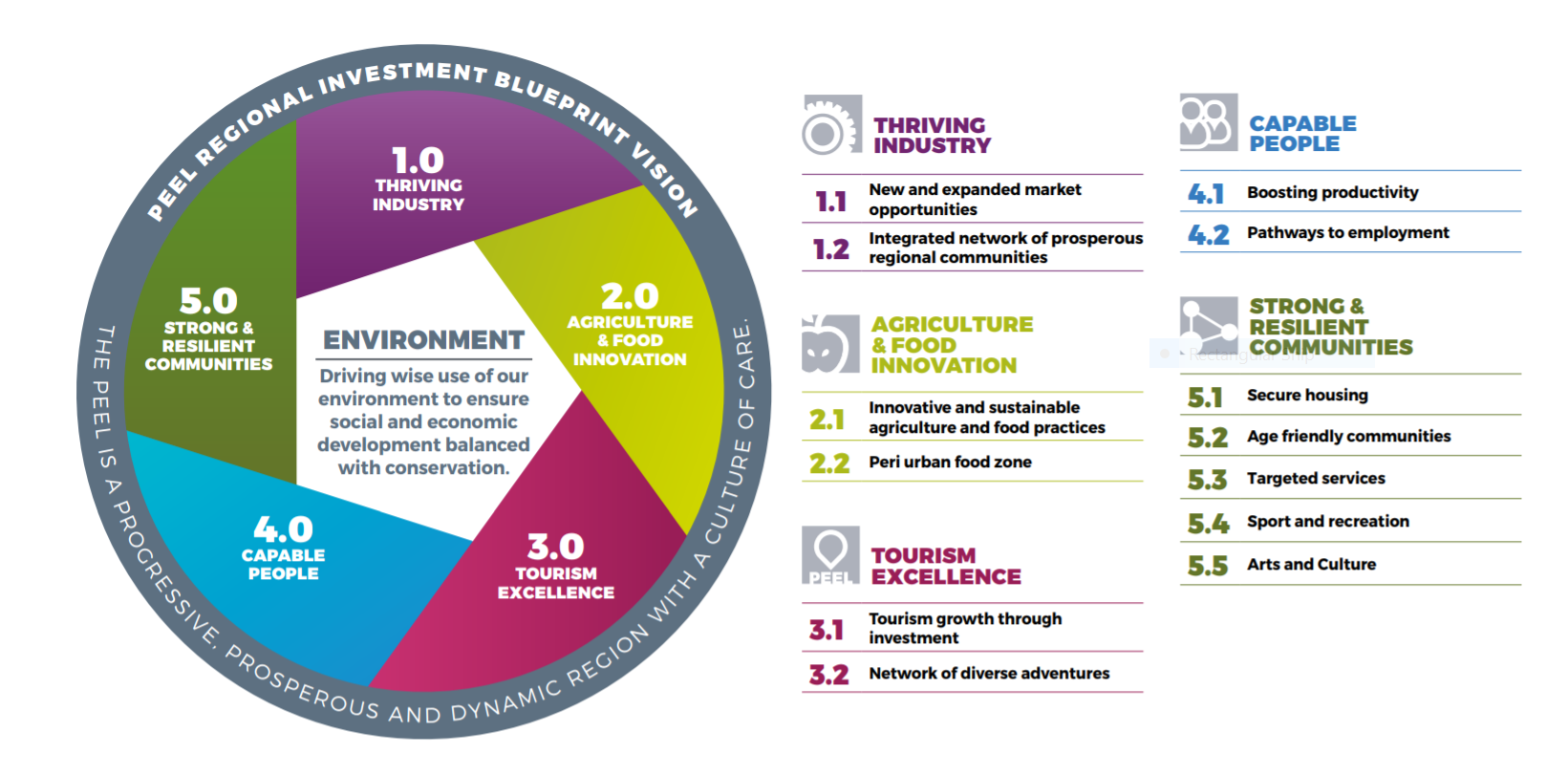 The continued rapid growth of the Peel region not only means that a clear vision for the future is as critical as ever, but that a collaborative effort towards achieving that vision is fundamental. The Peel Regional Investment Blueprint provides a shared vision of the Peel as a progressive, prosperous and dynamic region with a culture of care and provides a roadmap for its achievement to 2050.
The Blueprint identifies goals and strategies encompassed within five themes considered pivotal to the region's future:
Thriving industry – a broadened and diversified industry base to boost the depth and breadth of employment across the region.
Agriculture and food innovation – increased economic expansion, market base and international competitiveness of the region's agribusiness sector through innovation in production methods and renewable water and energy supplies.
Tourism excellence – a network of natural adventures that attracts visitors and enables them to engage with the Peel's natural and built attractions in a sustainable manner.
Capable people – the availability of an educated and highly skilled workforce with the capacity and capability to flexibly respond to workforce requirements of the future.
Strong and resilient communities – creation of support services and infrastructure that will ensure the community is strong and resilient and able to increase its participation in, and contribution to, the future development of the Peel.
Each theme highlights a number of focus areas, against which strategies for implementation and potential investment opportunities have been identified.
Implementation is led by the Peel Development Commission and occurs through continued communication, consultation and collaboration with regional stakeholders.
In 2018 the Commission undertook a Blueprint monitoring and review process to gain understanding of initiatives being pursued in alignment with Blueprint objectives and to identify areas of potential regional collaboration. In partnership with RDA Peel, Commission staff performed 18 individual organisation consultations and hosted a combined stakeholder workshop on 20 June 2018. Through this process the following initiatives were identified as regional priorities in the short term:
• Regional transport planning
• Establishment of a regional grower's group
• Development of a regional capability statement
• Development of cross regional trails
The development of a transport plan will enable a better understanding of the flows of freight and passengers through our region now and into the future, which has a critical impact on efficient economic contribution and development.
Establishment of a regional grower's group was also prioritised to engage existing agriculture and food providers in the development of the industry. Planning for agriculture and food sector growth requires direct input from industry growers, producers and land holders because they are the ones who are making the investment and taking action to grow our regional economy.
Development of a regional capability statement will focus on creating and promoting a positive narrative of the regions capability to create as well as engage with economic and social development initiatives.
A continued focus on the development of cross-regional trails through a review and regeneration of the Peel Trails Strategy is required to continue to grow Peels tourism market. The established trails working group has conducted a trails audit which will be utilised to establish collaborative priorities for implementation through the Strategy.
The monitoring and review process also enabled the identification 205 initiatives, that are either planned or underway in the region, against 73 Blueprint strategies. Of these, 103 are underway and 18 are complete, which shows that there's so much activity around the region that is well-aligned to these objectives. That speaks volumes about the relevancy of the document and that collaborative contribution is evident at many levels.
A consistent message by stakeholders during the review was that the environment underpins economic and social development of the region and is a key foundation of numerous Blueprint initiatives. The Blueprint graphic has been updated as a result of this feedback and now places the environment at the pivotal centre, critical to each of the five focus areas. This highlights the importance of balancing social and economic development with conservation when striving for our vision for the region.
The review enabled us to produce scorecards for each of the Blueprint themes providing an overview of achievements and the short-term plans of regional stakeholders identified during the review process.
To download:
Peel Regional Investment Blueprint
At a Glance – A summary of the Peel Regional Investment Blueprint
Download the Blueprint scorecards here
The Regional Investment Blueprint initiative is supported by a $330 million investment through the State Government's Royalties for Regions program.